I will be in a big state of Dilemma if asked to pick between the 1996 Bulls miracles or the 2016 golden era of the Golden State Warriors. These two teams stunned the entire world of Basketball with records broken during their era. Chicago Bulls set a record of 72-10 in the miraculous 1996 season, that record looked untouchable until GSW surpassed and set a new record in 2016, 73-9.
Until we see other National Basketball Association side gain that upsurge move, better than Chicago Bulls and Golden State Warriors. We will continue to discuss about the exploits of these two aforementioned teams.
Time to beam our searchlight on how it all happened.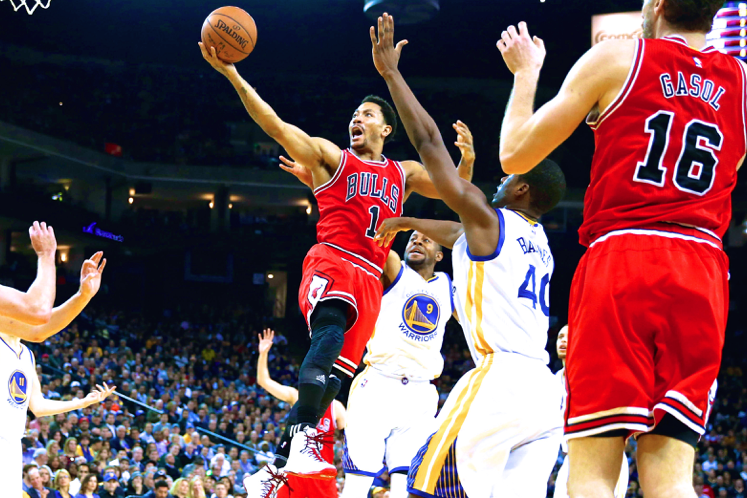 Photo Credit: Bleacher Reports
Chicago Bulls 1996 Miracles
We have seen some scintillating display from NBA sides, but the 1996 Bulls season is one-off.
The team paraded heroes like Michael Jordan, Karl Malone, Dennis Rodman, Scottie Pippen and a host of others. some called that team 'an absolute cheat'.
Photo Credit: Clutchpoints
Before the 1996 season kickstarter, Chicago Bulls signed a rebound-specialist Dennis Rodman from the Spurs, so he will fill the void left by Horace Grant as a power forward. Due to issues associated with the number 10 jersey retired for Bob Love, Rodman was denied a chance to use 01 a reversion of Love's number, then he had to go for 91, (arithmetic of 9+1) which adds up to 10.
I personally wasn't too surprised that Chicago Bulls won the NBA championship, but I was well bamboozled at how far they went, in terms of records smashed. From winning their first 37 home games, to being the team with most away wins in a season. I wouldn't dare go on with those records, as it will add some sort of longevity to this article.
Photo Credit: WGN-TV
70 victories was more than enough to put them through to the play-offs. Have you ever imagined that, if Chicago Bulls did not make it past the playoffs first round despite their flamboyant display? what will you term that? colossal failure? or whatever.
Chicago Bulls will then face Miami Heats in the first round of the playoffs that season, ironically Miami Heats were one of the 10 sides that defeated the Bulls in the regular season.
Chicago Bulls firmly breeze past the Heats with three straight victory. In that game, Michael Jordan had most PPG in the first two games, before Miami Heats, A.Mourning top the point list in the final game of the series with 30 points, followed by Scottie Pippen.
Chicago Bulls swept aside Orlando Magic, as they continue to beat teams in an emphatic fashion. Game 3 of the contest features the lowest scoring affair of the 'Four' (Chicago Bulls 86-63 Orlando Magic). MJ averaged 29. 5 PPG alongside Pippen who had 18.5 in the four games played. The season before, they had lost to the Magic in the second round of the Play-offs.
Chicago Bulls would then face Seattle Supersonics in the NBA Championship Final, a team that paraded the best team in the Gray Payton era. Seattle Supersonics, are known for their athleticism, quick-passes. All of the 'praises heaped' on the Supersonics were turned to 'laces whipped' in the first, three games of the series, as Chicago Bulls, recorded 3 straight victories, oh yea! three victories.
Photo Credit: Seattle Times
Seattle Supersonics had learnt some lessons from their first three lost to the Bulls, but it was better late than never. Coach George Karl ensured Gray Payton guarded Michael Jordan in the 4th game of the series, limiting MJ to just 23 Points, compared to 36, 29, 28 scored in the earlier three. Supersonics won the 4th game 86-107.
Chicago Bulls had not trailed in the last 72.42 prior to the Game Four of the series. With the series still at 3-1. Seattle Supersonics fans would be optimistic that their side can go all the way to turn things around. The fifth game of the series re-ignited the dying tension of Chicago Bulls fans, as Supersonics Sealed a 78-89 victory over the Bulls.
Photo Credits: USA Today FTW
With the series now at 3-2, Question began to role, left, right and center.
Is the comeback possible? Will Seattle record a dramatic turnaround in NBA history? Chicago bulls about let this slip? with all of these questions, it is left to be seen how Seattle will respond to expectations. You know what? wait for the next paragraph.
The journey took longer than the Michael Jordan and Scottie Pippen Chicago Bulls expected, but the final outcome was still what they wanted. In-game 6, Chicago Bulls showed the stuff of champions, from the tip-off, thanks to the extraordinary performance from Michael Jordan, that help the Bulls wrap the season in style.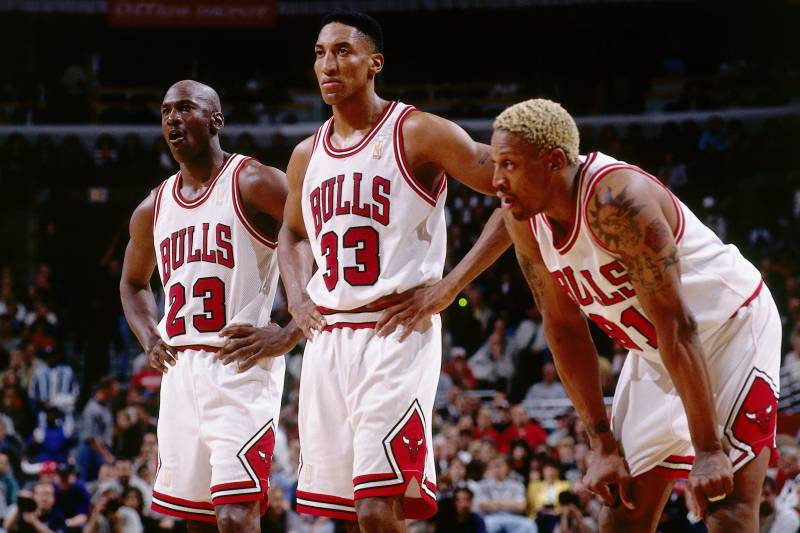 Photo Credit: Bleacher Reports
Chicago Bulls defeated the Seattle SuperSonics 88-75 to win their fourth NBA championship in six years. The Bulls showed resilience all through the final game and were finally able to put fears to rest.
In all sincerity, Michael Jordan was not the only top-performer in that game, guys like Dennis Rodman who recorded 19 rebounds, Scottie Pippen, Karl Malone where all on top of their game.
Arguments will continue to roll on how Bulls will fare against top performers, but you still can't rule out the fact that they have one of the greatest records.
Some records smashed by Chicago Bulls players (From Wikipedia)
Scottie Pippen, Forward, NBA's 50th Anniversary All-Time Team
Michael Jordan, Guard, NBA's 50th Anniversary All-Time Team
Robert Parish, Center, NBA's 50th Anniversary All-Time Team
Michael Jordan, All-NBA Team, First Team
Michael Jordan, Guard, NBA Finals MVP
Michael Jordan, NBA All-Defensive First Team
Michael Jordan, Regular season leader, Field Goals (920)
Michael Jordan, Regular season leader, Field Goal Attempts (1892)
Michael Jordan, Regular season leader, Total Points (2431)
Michael Jordan, Regular season leader, Scoring Average (29.6 points per game)
Lets now turn our searchlight to the Golden era of Golden State Warriors.
If my dad had told me that Chicago Bulls 1996, 73-10 record could be usurped, I will probably go to sleep for 1996 days, Golden State Warriors did exactly what I did not envisage. Should I go to sleep?
It was an absolute phenomenal display from Golden State Warriors in the entire season. It wasn't just a matter of continuing from where they stopped the previous season, there was a huge upsurge in performance after the 2014/15 season, breaking twenty-five NBA records and more than ten franchise records that season.
Photo Credits: Space City Scoop
Golden State Warriors had, Draymond Green, Klay Thompson, and Steph Curry, in their roster.
They had a bright start to the season, by winning their first game of the regular season against, New Orleans Pelicans, a game which Steph Curry recorded 40 points. The Warriors went on to record 24 consecutive victories, quite ridiculous!. Hypothetically speaking, some teams in the NBA would have told GSW potential opponents that, 'There is no way you can calm a storm'.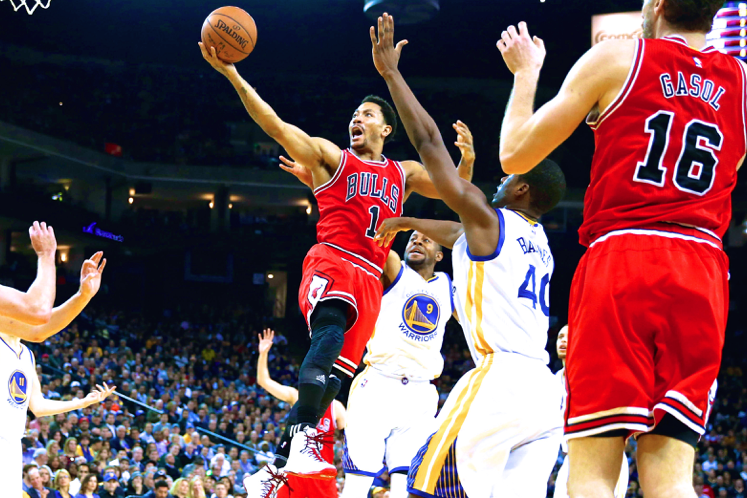 Photo Credit: Bleacher Reports
That 24 games consecutive win means that the Warriors broke a 131-year-old record of 20–0 set by the 1884 St. Louis Maroons baseball team, to claim the best start to a season in all of the major professional sports in America.
Alas! Golden State Warriors met their waterloo when they faced Giannis Antetokounmpo, Milwaukee Bucks in a crunchy clash. It put a stop to their 24 game-winning run. Realistically, we know at some Golden State Warriors would lose, but how they react to that loss is what matters now. Presumably, you would expect them to bounce back stronger, something they did in style.
Photo Credits: Heavy.com
They went on to surpass Chicago Bulls 1996 record of most away wins in a season, 34.
Undoubtedly Steph Curry was a huge part of that successes, he added some 'Curry' to that team. But I would not be tempted to draw a conclusion that, it was Steph doing that all through, you can't waive away sensational contribution from Klay Thompson, Draymond Green and the entire team.
After amassing 73 victories in the regular season, you should be aware that they would be more than ready for the Play-offs. they were, that 4-1 win over Houston Rockets, says it all.
Photo Credits: Sport Mole
In the Semi's, Klay Thompson became the first player to score 11 3-pointers in 9 successive games, they faced the Portland Trail Blazers with the momentum they were coming with, beating PTB was a no-brainer. Golden State Warriors outsmarted the PTB 4-1. Going into the final game of the Western Conference, facing Oklahoma City Thunder would be a herculean task, basically because of the team form prior to that game. Oklahoma City led Golden State Warriors 3-1. How GSW overturned the deficit, still astounds me.
The game served up to expectation as GSW fought back to beat OKC, 96-88 to become the 10th team of out of 233 teams in NBA history to overcome a 3-1 deficit. After successfully exploiting OKC weak links, GSW cruised to a 4-0 series win.
Photo Credits: SB Nation
Golden State Warriors lost the final to the Cleveland Cavs 4-3. After letting a 3-1 lead slip. Becoming the first team to squander a 3-1 final lead.
Don't you guys think that popular saying ' it doesn't matter how you begin; it matters how you end' should come to play now, in comparing the 'The Last Dance' of 1996 and the Golden era of 2016? Golden State Warriors lost that final game to the Cavs. I am still bamboozled! what actually went wrong. Cavs exploited their weak links. god of the NBA at work? Or what precisely?.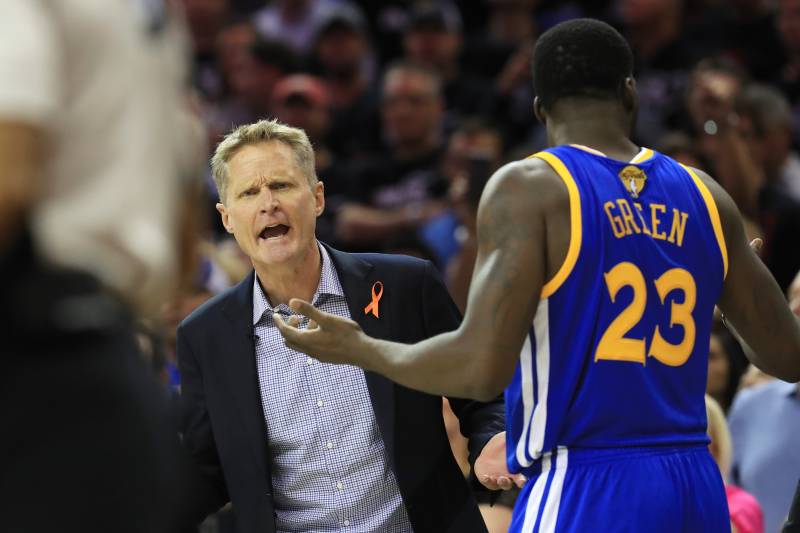 Photo Credits: Bleacher Reports
That win against GSW will perhaps be the greatest of the team history. Thanks to King Lebron James' performance.
Some records smashed by Golden State Warriors (From Wikipedia)
Best record in NBA postseason: 16–1, surpassing 00–01 LA Lakers 15–1
Best start in the postseason: 15–0
The longest winning streak in the postseason: 15 games
Most games without back-to-back losses in regular-season: 146 (from April 9, 2015 – March 2,2017). The previous record of 95 was held by the Utah Jazz.
The first team to have four players hit four three-pointers in a single game: Curry, Durant, Klay Thompson and Draymond Green all hit four three-pointers, the first time in NBA history a team has done this.
Most combined three-point attempts in a single game: 88 (Both the Warriors and the Houston
Rockets took 44 attempts each on December 1, 2016.)
Most games with a 40-point winning margin or higher in regular-season: 3 (tied with five other teams for NBA record)
Most players in the All-Star Game: Four, equaling the record shared by seven other teams in NBA history.
Most points in a playoff game, first quarter: 45 (tied with three other teams)
Playoff point-differential per game entering NBA Finals: +16.3 (largest winning margin in NBA history)
Fewest turnovers in an NBA Finals game: 4 (Game 1, tied with two other teams)
Most three-pointers in an NBA Finals quarter: 9 (Game 3)
Most three-pointers in an NBA Finals half: 12 (Game 3)
Follow me on Twitter @bigkensyn
On Instagram @bigkensyn
Share and Drop Your Comment below