When it comes to producing world-class players from a very young age, Ajax of Amsterdam have one of the best academies. The Dutch side is well known for that.
Recently they announced yet another signing, a 19-year-old Kudus Mohammed, who joined them from Danish side Nordsjaelland. Ajax had to beat-off interest from Everton and some other clubs in Europe to land the Ghanaian. Kudus is a direct replacement for departed Hakim Ziyech who joined Chelsea football club, earlier this month.
Since, the Dutch side confirmed the signing of the exciting attacking midfielder, there has been a lot of buzz as to what the player has to offer.
For those still in a state of oblivion as to the strength and weaknesses of Kudus Mohammed, let's take a microscopic look into some here.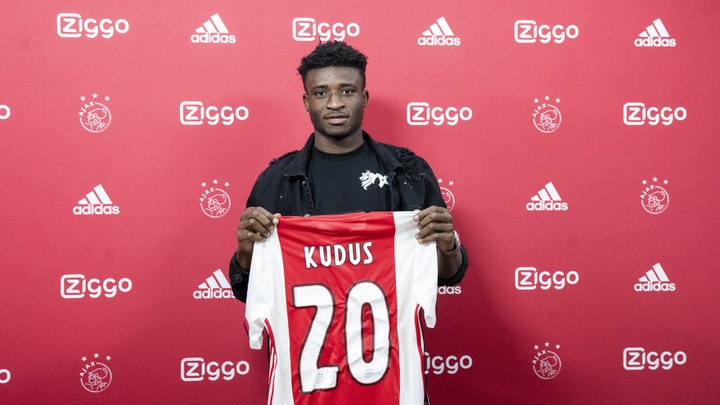 1) Good Left Foot: Ex-Dutch International Arjen Robben one of the fewest Football players to have an exquisite ability to use their left foot well, Kudus could as well go-down as of the best too, barring any unforeseen circumstances.
The rate of trickery Kudu's left foot possesses is quite sensational, he can maneuver his way down from the middle of the park to the goal-area. When he is on the ball, he sends shivers to the spine of Defenders.
Kudus Mohammed is a perfect replacement for Ziyech who scores sublime goals with his left foot.
2) Involvement in Goals: Kudu's started an average of 69% games for Nordsjaelland in the Danish League, played an average of 71 minutes and contributed to 26% of goals for them.
Not a bad record for a 19 year old. In 21 Appearances, he as 9 (Nine) Goals and 1(one) assist, which means he has been involved in 10 goals, for Nordsjaelland
For someone who is a direct replacement for Hakim Ziyech, he should have a big eye for goal, which he does. He can score and create chances from dead-ball situations.
3) Energy: He doesn't lose the ball often, composure while on the ball is top-notch. He has a very good strength and endurances level, with no 'Big Injury' to his name yet.
4) Discipline: So far, Kudus has only 1 Red Card, after receiving two yellow cards in game, this further reiterates how careful he is, when it comes to making tackles
Ajax will definitely get the best of the young sensation, after all, Amsterdam is the home of talents.
You will get to see more of Kudus Mohammed once he starts to play at the top level of Dutch football,