LA Lakers dispatches rivals LA Clippers in a nail-biting encounter. It was indeed an hard-fought victory for the Lakers who had to through a tempting 4th quarter to win the game narrowly (103-101) thanks to a last ditch 2-pointer from Lebron James.
Potential Defensive player of the year, Anthony Davis ended up as one of the top-performer for LA Lakers, as he scored 34 points 8 rebounds. Lebron James could not register big points haul, but his two-pointer was all Lakers needed in final seconds. King James continued from where he stopped as he registered a double double, continuing his impressive averages of double double.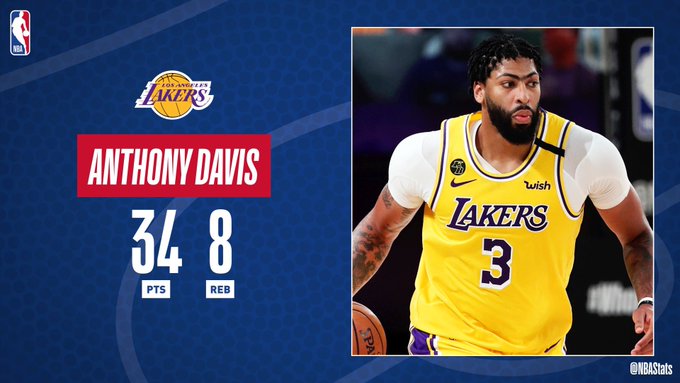 LA Clippers inability to hold play cost them the win, after losing the ball 20 times to LA Lakers in the matchup. Incredible display from the former Toronto Raptors man, Kawhi Leonard was not enough to hand Clippers the win, Kawhi made valuable contributions at both ends of the court. Pulling 28 points well accompanied with 2 steals and 2 blocks.
The game featured two players who have been compared to each other since the commencement of this season, Lebron James and Kawhi Leonard. In the Fourth Quarter of the game Lebron James ensured he guarded Kawhi, whose first face-off with Lebron earned him foul which Lebron was not too okay with, at the end of the Kawhi scooped 28 points.
Power Foward Paul George amassed a team-high 30 points all game. PG controlled ensures he distribute ball well for his teammates, as he was seen most times running into LA Lakers defense.
Patrick Beverley had a great game with LA Clippers too, knocking down points from big-moves. Kyle Kuzma registered 16 points for Lakers, finishing second in the most points in the game for Lakers.
New signing JR Smith had zeros all through, with just once 2-pointer attempt which he missed, he played 8 mins.
LA Clippers next have a date against New Orleans pelicans, while LA Lakers will face defending champions Toronto Raptors.
New Orleans Pelicans 104 -106 Utah Jazz
Utah Jazz kicked off the NBA restart in style with a 106-104 win over New Orleans Pelicans , who where unlucky to have lost the match up.
Donovan Mitchel was no doubts the stand-out performer for Utah Jazz, as his offensive and defensive efficiency was vital for their win. Jordon Clarkson got 23 points in the game. Mike Conley leveled 20 points scooped by Donovan. Rookie Zion Williamson bagged 13 points in 15 minutes played, while Brandon Ingram finished the encounter with 23 points.